TOP 10 Best Women Waders 2023
  Fly fishing is a sport that has always been largely dominated by men. So it comes as no surprise that finding the best waders for women is a bit challenging. However, over the last few years, well-known brands like Simms, Redington, and Caddis have introduced women's waders to the market. Still, we do not seem to have a wide range of variety. 
  Hence, this article summarizes a list of the 10 best waders for women along with a buying guide and FAQs to aid you on your hunt for finding the best fly fishing waders for women. We have carefully picked the 10 best fishing waders for women in the market so you can save yourself the hassle of searching through different stores in order to find the best product. 
  They offer a range of best features and performance including flexibility, breathability, water resistance, comfort, and more. Scroll down to read a detailed review of these waders. Meanwhile, let's get into the buying guide for women's waders.
Top 10 Best Women Waders 2023: 
  Now, let's check out the 10 best waders for women. All the products mentioned below are tried and tested by us so our reviews are based on experience and research. Hence, you can count on us for finding you the perfect women's fishing waders. 
1.Redington Women's Sonic Pro Waders-Best Women Fit
[caption id="" align="alignnone" width="350"]
Redington Women's Sonic-Pro Wader[/caption]
  Specifications:
Material: 4-Ply Nylon
Pockets: Chest Pocket and 2-Sided Fleece-Lined Pocket
Stockingfoot Material: 4mm Neoprene Booties 
Puncture-Resistant 
Anti-Corrosive Zippers
Season: Summers
Love the product- tried it on and was a good fit. I was a bit worried the footing was going to be small, but it worked out! Sizing was a good fit. Will update if there are any deficiencies in use. The plan is to take this clamming and fishing off the west coast.
  You might be wondering that the low-bulk cut would result in a constricted feeling but that's not the case with these waders. Instead, they allow great freedom of movement in case your fly fishing experience involves lots of trekking. 
  Coming up to its breathability, one might assume them to be less breathable because of its 4-ply construction. But these extra layers do not inhibit ventilation at all. So, you can wear these waders all day long while keeping yourself cool and dry at all times. The 4-ply construction, however, works in the favor of durability. These waders are abrasion and puncture-resistant and highly sturdy! 
  We tested these waders for three months in the rivers of Oregon and we were greatly impressed by their waterproofness. They did not leak even once and kept us dry throughout every excursion. Hence, it led us to the conclusion that these waders are the perfect option for anglers who are frequent waders due to their excellent toughness! 
  Our Verdict: 
Although the Redington Women's Sonic Pro Waders are somewhat expensive, they are a great catch because of their fitting, water resistance, durability, and breathability. So, if you go out fishing often, you must get your hands on these! 
2.Caddis Attractive Deluxe Women's Waders-Best Option Color Wise
[caption id="" align="alignnone" width="390"]
Caddis Women's Attractive Teal Deluxe Breathable Stocking Foot Chest Wader[/caption]
Specifications:
Material: Polyester 
Color: Teal
Insulated/Non-insulated: Non-insulated 
Water Resistance: Excellent
Season: Summers
This is an update to day that, after several years of use, I still consider these come of my best purchases EVER. Great value for the money. The ultimate test was when I used them as an emergency HAZMAT suit to clean up potentially highly dangerous raccoon poop on my deck. The instructions say not to put these in the washing machine but, under the circumstances, it was a risk I was willing to take. The waders were not damaged in the slightest, though I have not done it since.
ORIGINAL REVIEW: I have a small goldfish pond in my yard. I'ts only about two feet at its deepest, but to do heavy duty work, like cleaning the pump, I need to wade into it. The water is pretty disgusting,and often quite cold. I had been fantasizing about fishing waders for years, but assumed that they were very expensive and bulky. Finally, after soaking my blue jeans and myself in slimy cold water for the umpteenth time, I searched online and found these. They're very lightweight, nothing like your grandpa's waders. They're a game changer. First, I'm 5'8 inches and about 135 with very long legs.Normally I wear a size 6. I ordered the medium and it fits well. I might have been able to get away with the small, but a large would definitely have been too large. The shoulder straps are highly adjustable. The feet have Neoprene booties (actually very long socks) that are sewn into the wader fabric on a selvage up near the knee. These booties have no tread whatsoever and would be VERY slippery to wear alone, so I ordered a pair of hi top Neoprene Wet suit shoes with heavy tread to go over them. Although it was a little difficult getting the Neoprene shoes over the Neoprene booties, once I was in the water the fabric relaxed and my feet were very comfortable. The waders themselves are made of a lightweight, pale teal fabric that's coated with Teflon. My favorite feature is a zip pocket in the front where I can keep my cell phone without worry of it getting wet. I was really comfortable while working on the pond. (I use shoulder length coral gloves to cover my hands and arms) In addition to being able to wade into the deepest part of the pond, I could sit on slime covered rocks in total comfort while I was picking out leaves or vacccuming the pond bottom. In fact they were so comfortable that I kept them on to do some weeding after I was finished with the pond-- although my feet got pretty hot in the Neoprene. Although these can be washed if necessary, the manufacturer doesn't recommend it, and I would worry about mildew because you can't put them in the dryer. Instead, I got my husband to spray them off with the garden hose while I was still wearing them. It worked perfectly and they dried quickly. They come with their own net stuff bag for storage, and include a small fabric patch in case of a rip. There's also a belt of sorts but I didn't bother to wear it. No one would wear these things to look sexy, but they don't look bad. In fact they probably look better than the old mom jean& capris I had been using previously. Worth every cent I paid for them.
  By purchasing the Caddis Attractive Deluxe Women's Waders, you will be getting your hands on a very durable and lightweight chest wader. As they lack weight, it is quite convenient to carry them around and comfortable to wear them all day long. Their durability is excellent and they will stay as good as new for years. 
  As these are non-insulated, they offer an immense level of breathability which means you might not want to wear them in the winters because they will fail to keep you warm. But they are a perfect choice for summer. We tested this chest wader by Caddis in the NC Mountains for trout fishing and we loved its performance.
  Our Verdict:
For this price, this chest wader for women is a great catch. It offers great waterproofness and breathability making it the best fly fishing waders for the summer season. 
3.Simms Women Tributary StockingfootChest Wader-Best Lightweight
[caption id="" align="alignnone" width="630"]
Simms Womens Tributary Stockingfoot Waterproof Chest Fishing Waders[/caption]
  Specifications: 
Material: Polyester
Waist Belt: Adjustable
Weight: 1.84 lb. 
Warranty: 60 days
Season: Summer and Winter
I bought these for a fishing trip to alaska. These were fantastic! They made my fishing trip a comfortable and dry experience. Not only do they fit, but they are comfortable and durable. I've tried other brands not meant for women, and there is a difference.
These are well with the price. I suggest pairing these with their matching wading boots. You'll be able to focus on the fish and having a great time.
Note: there is pin of sorts on the bottom to help latch the waders to the shoes. When traveling, I suggest rolling up the bottom so it does not damage the neoprene booties.
  Since these womens fishing waders by Simms are made from lightweight polyester, they are not just super convenient to wear and pack but are also highly water-resistant. You can wear them for an entire day and stay dry, warm, and comfortable. 
  We tested these waders in the waters of Alaska for freshwater fishing and we loved them for their flexibility and breathability. 
  Our Verdict:
Overall, we found these women's fishing waders pretty great for the features they possess. But as Simms sells super expensive waders, we would only recommend these waders to anglers who go out fishing many times in a year so they can benefit from its high price!
4.Simms Women Freestone Stockingfoot Chest Wader-Best WaterproofOption
[caption id="" align="alignnone" width="561"]
Simms Womens Freestone Stockingfoot Chest Fishing Waders[/caption]
  Specifications: 
Material: Neoprene
Technology: Toray Quadralam
Water Resistance: Excellent
Season: Winters
These are so easy to get on and off, I love the design and they are actually comfortable . I have had the same waders for 30 years and thought it was time probably 20 years to late. the only thing I don't like is that the bootie is large so I have to manipulate the bootie to get my fishing boots on
  As the waders consist of 4 layers, their water resistance is uncompromised. You can wear them for days underwater and still remain warm and as dry as sand. You can also reach out to the cozy fleece-lined pockets to warm your hands during the chilly weather. 
  The breathability of these waders is not as high because they are made from neoprene. Hence, they are not suitable for summers and if you were looking for women's breathable waders, you should consider other options on this list. However, they are the best waders for women when the weather is cold. 
  Our Verdict: 
The Simms Stockingfoot waders for women are designed keeping the angler's comfort in mind. Hence, you can totally depend on these heavy-duty waders as they are a mixture of the best features. 
5.Orvis Women's Ultralight Convertible Waders-Best Versatile Option
[caption id="" align="alignnone" width="1024"]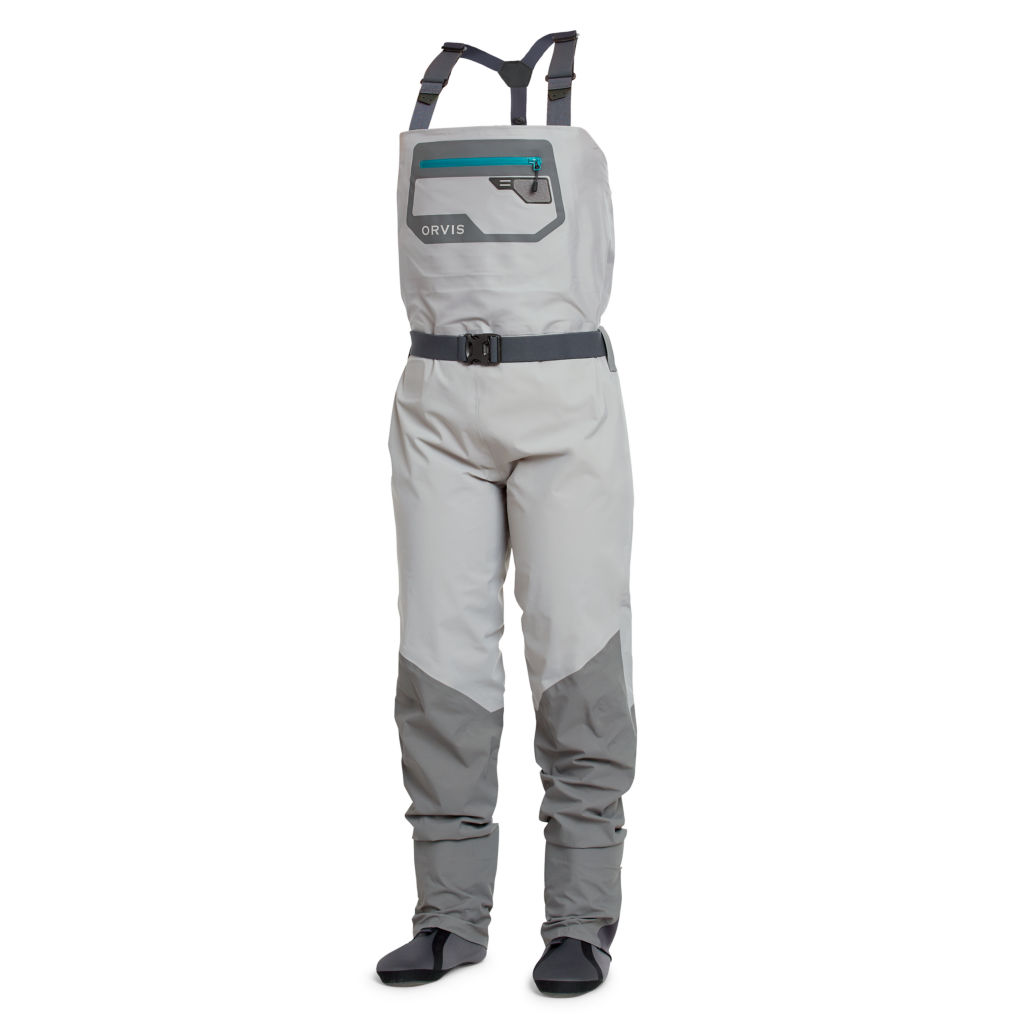 Women's Ultralight Convertible Wader[/caption]
  Specifications:
Material: 4-ply Nylon 
Water Resistance: Excellent 
Stockingfoot: 4mm Neoprene Booties 
Storage: Multiple Waterproof Pockets
Season: Summer and Winter
If you are in search of versatile waders that can be used as women's waterfowl waders and women's hunting waders, the Orvis Women's Ultralight Convertible Waders are your best bet. They are made up of nylon which is an incredibly breathable fabric combined with a porous membrane that allows your sweat to escape from the body while the waders preserve their waterproofness.
  Since these waders are convertible, they can be quickly converted to waist waders with the simple magnetic fasteners. So, you can convert them to waist-high length when you are wading in shallow waters or use the full length otherwise. 
  If durability is your main concern, you should buy these waders by Orvis without any second thoughts because they are constructed from 4-ply nylon which means their durability is excellent. 
  What we love the most about the Orvis Convertible Waders is that they are perfect for fly fishing all year round. They will keep you warm in the winters and cool in the winters so you can fish in these comfortable waders no matter what time of the year it is. 
  Our Verdict: 
Convertible womens waders are a rare finding so when you finally land on a pair of these waders, don't let the opportunity pass by. The Orvis waders are perfect in terms of breathability, comfort, and durability so you must not think twice before ordering them!
6.0xyvan Chest Waders forWomen-BestUnder $50
  Specifications:
Material: Nylon, PVC, and Neoprene
Water Resistance: Excellent
Sole: Non-Slip, Cleated, and Skidproof 
Snake Proof: No
Season: Summers and Winters
I loved wearing them for a day in the pond as I cleaned up. The boots were big and the mud sucked horribly at the boots. Most of the stress is put at the seam of the fabric and boot because of the looseness of fit. This is their smallest size. I wear a 6 1/2 to size 7 women's. I am going to see if I can get a pair of water shoes inside for a snugger fit. The leaks are minor but I dont know where it's coming into the boot. Not enough for a full boot of water but definitely a leak somewhere in (both) boots around the same time period, which I find weird after a few hours of wear. I am sloshing around in 1-2 foot of mud pulling weeds. I fell in once and the high wasted draw string was perfect for my 5'2", because I did not fill up with mud nor water. Actually after getting back onto my feet, I found myself covered in swampy mud on the outside but wonderfully dry and clean on the inside. I think if the boots were a better fit they would be perfect. They seem like a good 1-2 inches bigger, like a 8-9 women's shoe size. I guess I need to figure out if the soles are coming apart or if the seems attaching the boots have been compromised. I will have to figure it out. Maybe some duct tape will help?
There is a belt that sinches up the waist and it comes with a hanging belt that snaps together to hang it for drying. I love the waders.
  This wader is waterproof, so you won't have to worry about getting wet. Oxyvan's simple form allows it to be utilized for a variety of purposes. You can use the gear for hunting or even farm labor in addition to fishing. Hence, they can also be considered as the best women's waders for fly fishing.
  We tested these waders in the waters of the Pacific in San Diego and were greatly impressed by how well they performed in terms of water resistance and breathability!
  Our Verdict: 
The Oxyvan Waders for women are great if the idea of perfect waders for you means immense durability, waterproofness, and lack of weight. Plus, if you intend to use these waders for other than fly fishing, we would definitely recommend these for their high versatility. 
7.Kylebooker Fishing Breathable Stockingfoot Chest Wader- Best Women's Waders for DuckHunting
  Specifications:
Material: Polyester 
Water Resistance: Excellent
Abrasion Resistant: Yes 
Anti-wear and Anti-slip: Yes
Season: Summers
These are my first stocking foot breathable waders and I couldn't be happier that I purchased this model and brand. These are really nice waders at a great price. I immediately went out to fish in these when they arrived. They fit as expected and were very comfortable. I'm 5'11" 175lbs and purchased a large. They aren't insulated, but with under-layers you can easily fish these in cold water with no issues. They're also very functional. The two chest pockets were perfect for storing all my personal items and the built in rings are perfect for attaching pliers and other tools. Pair these with a Kylebooker fishing vest and you'll have more storage than you know what to do with! The waders are built well and seem durable. The knees are reinforced and the gravel guards work well. I plan to do a lot of fishing in these!
  Our Verdict:
If you are looking for entry level fly fishing waders for women then we definitely recommend the Magreel Chest Waders. They are highly waterproof, durable, and breathable. These features combined will make your fly fishing excursion a memorable experience. 
8.Dark Lightning Fly Fishing Waders-Best DurableOption
  Specifications:
Material: Nylon and Reinforced PVC 
Seams: 100% Waterproof 
Water Resistance: Excellent
Storage: Multiple Pockets
Season: Summers
Overall, it seems well made for the price. For under $40, if it makes it through one season, I will be happy. One problem I have with the fit is that I have thick calves and the boots do not make it up my calves all the way. This makes the boots bunch which is mildly uncomfortable. People with normal to small calves should not have any problem. This was with bare legs to so forget about wearing jeans under them unless your claves are on the smaller size. I bought a size 11. I normally wear a size 10-1/2 EEE and the boots fit about right.
  The Dark Lighting Fly Fishing Women's Waders with boots are easy to use. The inclusion of release buckles, chest pockets, and adjustable suspenders distinguishes this style. It is quite comfortable to wear and utilize.
  Our Verdict:
Overall, these waders are a perfect catch at this price. We recommend getting these best waders for women if durability and longevity are the most important of your concerns. 
9.Kylebooker Fly Fishing Waders- Best Women's Plus Size Waders
  Specifications:
Material: 3-Ply Breathable Material 
Sizes: Small to XXXL
Water Resistance: Excellent 
Abrasion Resistant: Yes
Season: Summers
It has been a while since I used waders but I recall the awkward stiffness of the heavy rubber. These chest waders had none of those issues. The neoprene socks fit great and stayed in place thanks to the elastic ankle despite my having to order an XL for the sock size. The fit is bulky because I ordered for the sock size but I can still move very easily. And while I don't live close enough to a lake or stream, my very cold pool had nothing on these chest waders. I appreciate the shear size of the front pass through pocket, which is large enough for a folded light jacket, but I do wish both sides had the fleece liner. Toss in the chest pocket and the flip out pocket and there is a lot of room to carry right in the waders. I am looking forward to getting out and really putting these to the test!
  They also have an internal waterproof zippered pocket that's designed to keep a phone, keys, or anything else you don't want to get wet. The waders also come with a mesh storage bag, which is ideal for anglers who return to their truck right after fishing but need to dry off their waders. So, they are the best women's waders for fly fishing.
  Our Verdict: 
The Kylebooker Fly Fishing Waders are the best womens stockingfoot waders and are perfect for women who encounter a challenge in finding the right size of waders. Along with their excellent features, they also come in a range of sizes so you will definitely find a pair that fits even if you are in search of women's plus size waders!
10. Compass 360 Women Waders – Best Fashionable Option
  Specifications: 
Material: 4-ply Fabric
Water Resistance: Excellent 
Closure Type: Quick-Release Buckles
Season: Summers 
bought for my wife, with great skepticism, She is 5' 1" tall, #130, 28" inseam 37" chest, athletic build and size 6 shoe. I was afraid stocking feet and legs would be so baggy that we would have to return. My surprise, they fit great, legs have enough length for an other 4" of leg length easily but don't look to baggy on wife at all.
  The presence of a chest draw cord is another plus point as it will allow you to adjust the fitting around the bust area so you can prevent looking bulky. The waders also have ample storage options so you can keep your valuables safe and sound. 
  We tested these compass 360 women waders in the rivers of Montana. Their breathability, comfort, and water resistance are truly something to be talked about! 
  Our Verdict:
Not only do these chest waders for women offer the best features, they can also be converted to waist-high length. They are a perfect option for anglers who like going fishing several times a year! 
Buying Guide for Best Waders for Women:
When purchasing a new set of waders, be it for men or women, certain things need to be thought of. As waders can be quite expensive, it is important to invest cautiously so your money does not go down the drain just after wearing the waders a couple of times. 
  Therefore, we have curated a list of features that the best waders for women must-have. Make sure that the wader you intend to buy whether they are womens hip boots or chest waders, they have all these features: 
Comfort
  Comfort is the most important factor that should be taken into consideration when buying chest waders. As fly fishing trips can last for hours or even days, it is essential to invest in a pair of waders that will keep you comfortable throughout the excursion. 
  To make sure your waders offer a high degree of comfort, look for the waders that are:
  Lightweight so they don't weigh you down. 
Soft on the skin so they should have a soft inner lining. 
Breathable so they don't trap the body's heat.
Flexible so you don't feel restricted when moving around. 
Simms Women Tributary Stockingfoot Chest Wader is a good option if you want to keep your comfort as your top priority.
Breathability
  The breathability of the waders determines how long you can wear them. Whether you are fishing in summer or winter, you do not want to wear waders that don't allow your sweat to escape. You can easily feel overheated in waders regardless of the weather if your waders are not at all breathable. So whether you intend to buy womens hip waders or woman chest waders, make sure their breathability is up to the mark like the Caddis Attractive Deluxe Women Waders.
Water Resistance
  The prime function of waders is to keep you dry. If they fail to do so then what's the point of even purchasing one? Hence, look for waders that offer high water resistance such as the Redington Women's Sonic Pro Waders . Mostly waders that have triple-sealed seams and are made from multiple layers of fabric offer the most water resistance. 
Durability
  As we already said, womens chest waders are a significant investment because they can be quite costly. Not everyone can afford to replace their waders every couple of months. Waders that are made from tough material and offer resistance against puncture and abrasion are the most durable. Dark Lighting Fly Fishing Waders are exceptionally durable! 
Size
  There's a reason why women's fly fishing waders are designed differently than men's. Women often have longer legs and so they have a different cut to accommodate the shape of a woman's body. Moreover, since every brand has different measurements for the same size, it is essential to go through the size chart for every company before buying a generic size and then regretting it later. The Redington Women's Sonic Pro Waders have the ideal sizing for the female physique. 
Best Women Waders – FAQs
  Moving on, it's now time to address some FAQs about the best waders for women. Scroll through the next section to resolve all your queries about waders for women:
  Q: Is there any difference between men waders and women's waders? 
  Answer: Yes, there's a significant difference between the sizing and cutting of men's and women's waders. Up until a few years back, female anglers used to wear men's waders for their fly fishing trips but considering they looked bulky, many well-known brands now produce women's waders so females can enjoy their fishing experience better. 
  Q: What is the most durable material for waders?
  Answer: The answer to that question depends upon the season you intend to wear the waders. For colder temperatures, neoprene is the best and most durable material. As it is thick and sturdy, it will keep you warm throughout your trip. Look into the Simms Women Freestone Stockingfoot Waders if you want to buy neoprene waders. 
  For summers, however, you should look into polyester waders like Magreel Chest Waders  because not only are they durable but they are also quite lightweight. Hence, they won't make you feel bulky, hot, and weighed down. 
  Q: Are women's hip boots better than women's chest waders?
  Answer: If you plan on wading in shallow waters during the summers then hip boots or best hip waders are the perfect options for you. However, if you want to go fly fishing in winters or in slightly deeper waters then women's chest waders should be your go-to option. 
  For the best waders for women, you should consider buying the Redington Women's Sonic Pro Waders as they are perfect from every aspect. They are convertible, breathable, and perfect for fly fishing all year round. Plus, they come on a budget so you should not concern yourself with overspending. 
  But of course, the decision is all yours. All of the products mentioned above are the best waders for women. You may scroll back up to the list and decide which option suits you the best. We hope that investing in any of these waders will prove to be a worthy investment for you! 
Disclosure: Wadersfishing is a reader-supported website and takes part in the Amazon Associates Program. We may earn a small commission if you shop through links on this page. At wadersfishing.com we test products and recommend them based on unbiased research.
Related Fly Fishing Guides:
Wading Boots Guides:
Best Wading Boots 2023  (Wader Boots Reviews)
Best Wading Boots 2023
Best Wading Boots Insole 2023
Korkers Wading Boots Review
Studded Wading Boots Guide (Studs Installation and Placement)
How to Size Wading Boots? 5 Tips For Sizing Wading Boots
What are Wading Boots? Buying Guide! 
Felt Sole Wading Boots
Best Wet Wading Shoes For Fly Fishing
Best Lightweight Wading Boots
Best Wading Boots For Women
Best Budget Wading Boots
Felt Sole Wading Boots
Drying Wading Boots? In 6 Interesting Ways!
Best Wading Boots for Slippery Rocks
Ultimate Guides on Waders:
Best Waders For Fly Fishing
Best Women Waders
Wading Pants Reviews
Best Wading Jacket
Best Hip Waders
Best Neoprene Waders
Best Waders for Cold Water (Winter Fly Fishing)
Best Wader Bags
Best Wading Staff
What to Wear Under Waders?
Breathable Vs Neoprene Waders Explained 
Waders for Big Guys (Tall Fat Guys With Big Bellies)
Kylebooker Fly Fishing Catalog 2023
Sample Block Quote
Praesent vestibulum congue tellus at fringilla. Curabitur vitae semper sem, eu convallis est. Cras felis nunc commodo loremous convallis vitae interdum non nisl. Maecenas ac est sit amet augue pharetra convallis nec danos.
Sample Paragraph Text
Praesent vestibulum congue tellus at fringilla. Curabitur vitae semper sem, eu convallis est. Cras felis nunc commodo eu convallis vitae interdum non nisl. Maecenas ac est sit amet augue pharetra convallis nec danos dui.
Cras suscipit quam et turpis eleifend vitae malesuada magna congue. Damus id ullamcorper neque. Sed vitae mi a mi pretium aliquet ac sed elitos. Pellentesque nulla eros accumsan quis justo at tincidunt lobortis denimes loremous. Suspendisse vestibulum lectus in lectus volutpat, ut dapibus purus pulvinar. Vestibulum sit amet auctor ipsum.